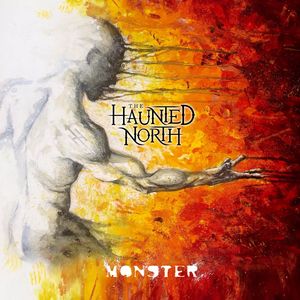 THE HAUNTED NORTH 
Monster 
Review by Mike O'Cull, independent music journalist. www.mikeocull.com 
Real talk time, kids: if you live and breathe true metal music, you have got to discover The Haunted North. The band's debut record, Monster, is a work of brutal genius that mixes modern rage and lyrical themes with the power metal sensibilities of iconic riff wizards like Judas Priest and Black Sabbath. Monster isn't an homage to the old days so much as it is an updated take on the kind of stadium-exploding rock that spread heavy metal around the world in the 20th Century. The sound is hard-edged with powerful vocals and the kind of hooks that could elevate The Haunted North to global Metal God status in its own right. 
The tracks on Monster aren't the atonal modern machine metal heard so often now but are built on actual singing, fierce riffing, dynamics, and ripping pentatonic lead guitar. The lineup of vocalist Randy V, guitarist Sean Francis, bassist 'JD' DeServio, and drummer Jeff Fabb is an impressive unit with a vibe that bleeds authenticity and lets each musician's personality and style be heard. The result is a supremely listenable record that will put your head through a wall. Tracks like "Mojave Moon," "How Will You Die," and "Burnin' Whiskey" hit like a fist to the face made of high-level skills, musicality, and perfect riffs. 
2016 Grammy nominee Justin Shturz (Shinedown & Slipknot) put the final mastering sheen on the songs but what will grab you is the raw and physical nature of this band and this record. The Haunted North taps directly into the things that make heavy music great and its kick-ass American-style blues-influenced metal attack will make a lot of fans very happy. Give this record a chance and it will change your life. It's changed mine, already. Buy it today! Metal up!
LISTEN ON SPOTIFY: https://open.spotify.com/album/33oEFK3Lsp2qSO4wQl5nIs?si=FnIipbLcRr2J8ji1TXsGSQ
OFFICIAL WEBSITE: http://thehauntednorth.com/