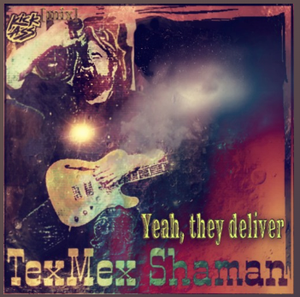 TEXMEX SHAMAN 
Fever in the South 
Review by Mike O'Cull, independent music journalist. www.mikeocull.com 
TexMex Shaman is a guitarist and avant-garde composer in Dallas, Texas who is evolving an expressive and somewhat abstract strain of instrumental funk rock by jamming styles together until something fits. His latest release, Fever in the South, shows Shaman combining rock guitar, funk beats, loops, samples, and multiple genres with a fearless disregard for convention and a burning desire to subvert musical norms. Shaman works way outside of the mainstream and is the kind of wild, reckless visionary that America once grew like wildflowers. Little is known of his background, as he keeps a lid on his identity, but his creativity commands attention in that love-it-or-hate-it kind of way that all great artists share. 
Fever in the South contains six tracks, none of which are easy to define. The opening cut, "Yeah, They Deliver," drifts between Asian-esque melodies and acoustic Delta blues over electronic percussion until the distorted guitar and throbbing bass kick in, both of which are painted in overlapping Jackson Pollock-like splatters of color. It then fades out to almost nothing before building back into a stony funk pocket. Experimental, to be sure, but absolutely valid. "Roll Over Matryoshka" is another fantastic voyage that begins as smooth, mellow, and atmospheric funk before drifting out to sea and coming back as Giorgio Moroder-inspired disco topped with a wah-drenched guitar. Again, completely unpredictable and idiosyncratic but not without a certain charm. Shaman colors across the lines to the point of obliteration and that feels like the point of the whole record. "Peking Bass" is future funk for a party that hasn't happened yet but seems inevitable. 
All six tracks on Fever in the South are worth investing listening time into and letting them pull you into their worlds. TexMex Shaman is doing art for art's sake and, while his music isn't for everybody, it will make many music lovers on the left side of the dial very happy. There are enough bands making beer-commercial music out there already to keep the zombies happy for a long time. TexMex Shaman is brave enough to go the opposite way, live on the fringes, and explore the margins. That, alone, should put him on your radar.
LISTEN ON SOUNDCLOUD: https://soundcloud.com/texmex-shaman/sets/songs
SPOTIFY: https://open.spotify.com/artist/2VEaPZdJfnXEnJ7qTDhJPM
CD BABY: https://store.cdbaby.com/Artist/TexmexShaman