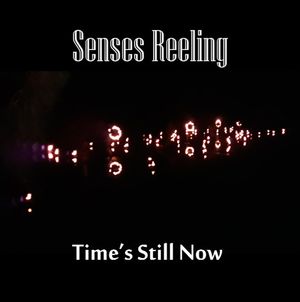 SENSES REELING 
Time's Still Now 
(Moments of Pleasure Records) 
Review by Mike O'Cull, independent music journalist. www.mikeocull.com 
All forms of art have the same purpose: to transfer emotion from one human to another. By that metric, the new record from Britain's Senses Reeling, Time's Still Now, is an enormous success. Senses Reeling is a recording project led by Nick Fuller and Paul Midcalf and fleshed out with talented guest artists including Tom Williams, Mike Youé (The Blue Aeroplanes), Matthew Griffin (Rogue Beauty), John Whitehorn (The Varlies), and actress Jane Slavin. Together, this crew makes intelligent, eclectic music that gets wrapped around some of the finest, most emotive songwriting you're likely to encounter this year. Far from another forgettable batch of guitar pop love songs, Senses Reeling writes about real issues that affect millions of people and provoke real responses. Lyrics are set against a shifting palette of styles that range from clean melodic pop songs to grinding noise to subtle atmospherics and carry the power to stop you in your tracks. It drops June 14, 2019 on Bandcamp. 
Fuller is in charge of the writing department and his songs work well with the various combinations of the others involved. The opening track, "Signs Of The Storm," is a gorgeous bit of gentle pop/rock that deals with the ideas of facing reality and avoiding escapism as virtues but wonders out loud if constantly worrying about the bad that might happen obscures the good parts of life. The song uses a non-rhyming, conversational lyric very effectively without sacrificing any musicality. The chorus ends with a dose of self-awareness, with the speaker realizing "All that preparation's no more than fooling myself, Maybe distraction's a better way." 
"Foreign Or Poor" is about the tragic Grenfell Tower fire in London in 2017 and how it was not a rogue event but the culmination of decades of systemic neglect of society's most vulnerable members. Politicians evade blame, "recommend but don't make law," and force those with nowhere else to go to live in life-threatening situations. Just like in many other places, "you don't count if you're foreign or poor" and people die as a result. It's a dark, fuzzed-out call for social change in the Floydian mode that ends with black sheets of guitar noise that accentuate the song's difficult topic. 
"Press For Freedom" is an atmosphere-filled mid-tempo funk track about media accountability,  phone hacking, and leaking in the UK. The lyrics chastise an out-of-control press, saying "We left them to their promise to behave then, We watched their self-policing turn to mayhem, Their promises of ethics got attention, But money talks in court when victims have none." Fierce and right to the point, its observational approach provokes much deep thought. 
One of the most difficult-to-hear songs on Time's Still Now is "Together." It's an ambient, soundtrack-ish cut that sets real diary entries from people near the ends of their lives performed by Jane Slavin over gently rising and falling sonics. The words tell of good days, bad days, and age-related life changes that no one wants to consider but are inevitable. Slavin brings a lot of quiet intensity to the track and her lines strike directly into the heart. Anyone with aging parents will likely be moved past the point of composure. This one is so real it hurts and that's what makes it brilliant. 
Senses Reeling has a gem of a record on its hands with Time's Still Now. This is smart music, well-conceived and executed, that offers substantial takes on topics that many modern people can understand. It's also extremely well-recorded and moves through styles that touch on everything from vintage Del Amitri to Pink Floyd. Fuller and Midcalf are true artists and have made an album with the power to make listeners think and feel. Buy it as soon as you can.
SENSES REELING ON BANDCAMP: https://sensesreeling.bandcamp.com/
RECORD LABEL: https://momentsofpleasurerecords.com/