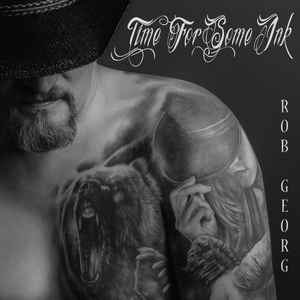 ROB GEORG 
"Time For Some Ink" 
Single and video review by Mike O'Cull, independent music journalist. www.mikeocull.com 
Rob Georg, Germany's favorite country artist, checks back in with his faithful with a brand-new single, "Time For Some Ink," that again demonstrates his command of and love for American music. Georg may be European but has more true country credibility than many US-based artists, seeing how he is an actual cowboy, a lifetime equestrian athlete, and lives on a ranch with almost two dozen horses, 50 sheep, and nine dogs. Georg writes songs about the life experiences he's had and the stories they've allowed him to tell. This puts him shoulder-to-shoulder with the greatest country artists of all time, who personally knew the lives of which they sang. 
"Time For Some Ink" is a song about tattoos and their significance in Rob's life. He is an illustrated man with many impressive pieces of skin art already installed on his body and plans to keep getting more throughout his life. The track is a heavy, grinding country/rock number that employs gritty guitars, throbbing tremolo, and immense-sounding drums to surround Georg's lyrics and vocals and intensify the meanings of the lines he sings. Scotty Sanders adds a brief-but-brilliant slide guitar solo that takes the song up a level as soon as it hits. The entire band on this session sounds amazing and does fine work bringing Georg's creative vision and story to life. The accompanying video clip is made up of live performance footage of Georg and company interspersed with scenes of his own ink and the tattoo process. 
"Time For Some Ink" would sound right at home on modern country radio and will strike a common chord with many roots music fans who also share Georg's addiction to the tattoo gun. He always sounds confident of his song's directions and this new one continues that trend. Rob Georg is a steadily-rising star in the country music world and it's only a matter of time until he breaks the scene wide open.
WATCH THE VIDEO:
OFFICIAL WEBSITE: www.rob-georg-music.com
FACEBOOK: www.facebook.com/robgeorgmusic
TWITTER: www.twitter.com/georg_rob