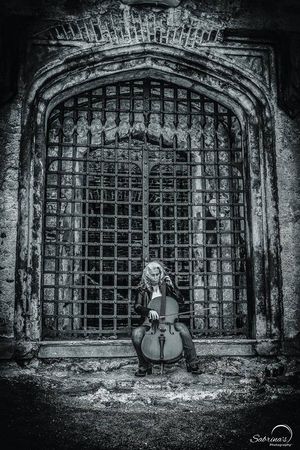 ELAINE NOLAN 
Inner Exposure 
(Carlow Photographic Society) 
By Mike O'Cull www.mikeocull.com 
Celebrated Irish composer, author, multi-instrumentalist, and all-around Renaissance woman Elaine Nolan has teamed up with the Carlow Photographic Society for a compelling mixed-media long-form work called Inner Exposure. The project features images created by 24 members of the CPS based on the theme "Inner Exposure - The Unsung Song Within" combined with new modern classical/ambient musical pieces by the always-innovative Nolan. The sounds and images are presented as videos that blur the line between the mediums and create an all-encompassing experience that's nothing short of breathtaking. It's an impressive showing for all involved and shines a bright light on some of Ireland's most talented creators. 
Elaine Nolan has long been a hidden treasure but her profile is on the rise lately and a great many new fans are currently discovering her brilliance. She excels on piano and cello, writes bravely melodic 21st Century music, and employs electronic elements and production techniques without apology. Her style is often spare and minimalistic but conveys immense amounts of emotion and introspection. She's also an award-winning author who composes soundtracks for each of her novels but that's a story for another day. Suffice to say that she's a fearless creative and one of the most important voices emerging right now in instrumental music. 
Inner Exposure is available on the CPS website as well as on Nolan's YouTube channel. The videos are entrancing on all levels and the format of short classical/ambient pieces tied to highly emotive images works swimmingly well as both art and entertainment. Each video features a single photographer's work set to Nolan's compositions inspired by said work. It's a large and ambitious project but is absolutely worth spending some time processing. 
The Alphonsus McCarron video that begins the series consists of gorgeous photos of sea and sky and imparts a gentle euphoria to viewers. Nolan's pieces "Heavenly Moments," "Peace And Love Are In This Place," and "Ray Of Light In The Distant Horizon" are as euphoric as the images and create a tranquil state of flow. Nolan's cello playing is always soul-stirring and her work here is no exception. Joe Rattigan's photos of a ballet dancer in motion are stunning and artfully done, as are Nolan's "Crossover," "Looking Up," and "Downcast." 
The clip of Ken Hayes' pictures of 18th Century war reenactments are jarring and immediate, which gives Elaine the opportunity to respond in kind. She uses aggressive percussion sounds and the dissonance they create to raise the tension contained here further and her pieces "Fire," "Take Aim," "Charge," and "Under Heavy Fire" are some of the most commanding in this entire endeavor. Nuala Grogan's sequence of barbed wire closeups are poignant and stark, which Nolan mirrors with the pieces "Wretched Are The Wires," "That Prevent Connections, Encounters, and Life," "That Spinter Vision And Cut Stories Short Of Completion," and "Break Those Wretched Wires." The video ends with a soft image of a single feather and a Dali Lama quote that conspire on a soulful resolution. 
Every photographer presented here is prodigiously talented and in possession of their own individual vision. You should contemplate and savor all of them and the music they awakened in Nolan. Special notice should go to her collaborations with Regina Fitzgerald, Maria Martin, and Willie McCann as high water marks. Inner Exposure is an outsized artistic success no matter how it's consumed and it shows Elaine Nolan to be an iconoclastic musician and composer with limitless possibilities in front of her. Experience all of this now.
 
INNER EXPOSURE ON THE CARLOW PHOTOGRAPHIC SOCIETY WEBSITE:
OFFICIAL WEBSITE: