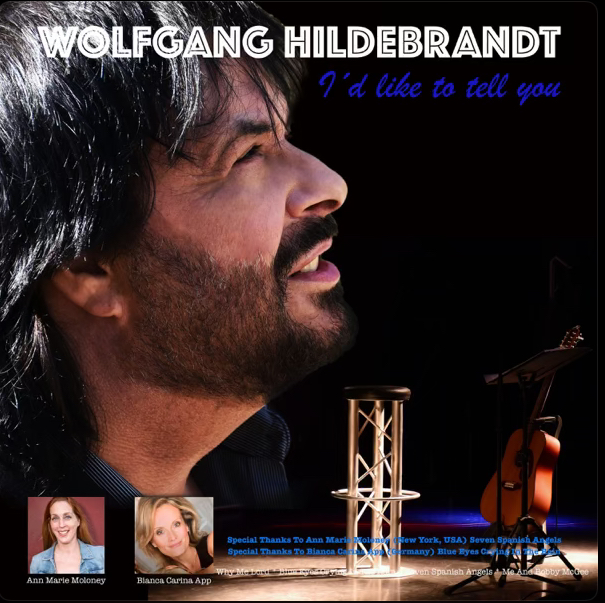 WOLFGANG HILDEBRANDT
I'd Like To Tell You 
(The AMG Corp)
By Mike O'Cull www.mikeocull.com 
German singer-songwriter, activist, and philanthropist Wolfgang Hildebrandt takes his fans down a country road on his new EP I'd Like To Tell You.
Hildebrandt is a familiar presence on the international music scene and has created a substantial body of work. This time out, he delivers an EP worth of classic country covers redone in his own unique style. He's a smooth and effective vocalist with the skills to give a song a new identity, which is exactly what he does on I'd Like To Tell You. 
Never one to shy away from greatness, Hildebrandt takes on tunes from some of the finest artists in American music history. Willie Nelson, Kris Kristofferson, and Ray Charles each get The Wolfgang Treatment on the EP and Hildebrandt shows us that he's as great of a song stylist and interpreter as he is a songwriter. 
The set opens with its title track "I'd Like To Tell You." It's a sweet and romantic country ballad that features Hildebrandt's warm vocals and some wonderful pedal steel playing. This is the sound we all love and Wolfgang puts it down like a star. 
Hildebrandt then grabs hold of Willie Nelson's eternal "Blue Eyes Crying In The Rain." He transforms it into a duet with the talented Bianca Carina App. Her voice blends well with his and they give it a slightly uptempo acoustic arrangement that shines new light on this legendary song. 
Wolfgang also takes on Kris Kristofferson's iconic "Me And Bobby McGee." He again employs an acoustic touch on this chilled-out version and makes this rock classic feel like a folk song. He sings it sweetly and clean, replacing Janis Joplin's bluster with his own mellow energy, and it makes it seem fresh all over again. 
The Ray Charles/Willie Nelson duet "Seven Spanish Angels" makes a welcome appearance on the EP. Wolfgang chose Ann-Marie Moloney as his vocal partner on this one and their reimagining of this famous song is likely to become your favorite version of it. 
Hildebrandt closes the EP with Kristofferson's personal hymn "Why Me Lord." His vocal performance of it is sublime and full of emotion. You can tell the lyrics have a lot of meaning for Wolfgang and he puts his whole soul into them. Wolfgang Hildebrandt has a winner with I'd Like To Tell You and his reinventions of these wonderful songs are going to win him a whole bunch of new friends. Highly recommended. 

LISTEN ON SPOTIFY:
https://open.spotify.com/album/4Q21vxrIWkupuwl0DdiDKa?si=Ic1-y4kWT9mnXCGD-VzFlw