HIGHER HILL
Get Up And Go
(Higher Hill Studios)
By Mike O'Cull www.mikeocull.com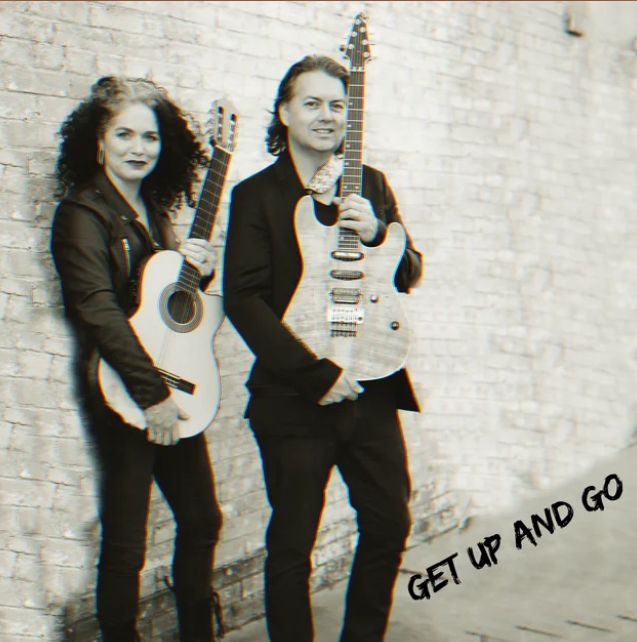 Higher Hill delivers an enticing batch of melodic, original pop/rock/roots songs on their album Get Up And Go. 
The group is actually a singer-songwriter duo who are also a married couple. Vanessa Ogle and her husband Paul are both talented musicians and songwriters who create dynamic and accessible music full of smart lyrics, top-tier playing, and big hooks that will stick in your ear all day. Vanessa is an outstanding singer with a powerful style and an expressive belt. Paul is a master guitarist and luthier with his own brick at the Rock and Roll Hall of Fame. Together, they're a high-value musical team who will get you hooked before you even know what's happening. 
The songs on Get Up And Go do a fine job combining contemporary country, classic rock, and other influences in a smooth, seamless manner. The opening cut, "River," is a steady rocker filled with nicely-overdriven guitars and Vanessa's warm vocal tones. She has a velvety sound reminiscent of the great Karen Carpenter that eschews screeching soprano tactics for a more inviting, natural sound. 
The record's title track "Get Up And Go" is a mid-tempo, road trip tune that will appeal to anyone longing for a well-deserved vacation. This one is all about sharing new scenery and the fun of travel with your favorite person and will get you in the mood to get in the car and keep driving until you reach that hotel you like. Good times, indeed. 
"Come On Karma" is a blissful roots rocker with a Texas dirt road vibe. The lyrics about an annoying ex who won't disappear definitely hit home and the studio band puts a whole lot of backbone behind them. It's one of the best moments on the record and is not to be missed. 
Every bit of Get Up And Go is worth repeated listening sessions, even the deep cuts. Be sure to dig into gems like "Sin," "Best Life," and "Lullaby." Higher Hill absolutely has the songs and the sounds to rate a spot in your daily listening rotation. Get these two in your speakers and keep them there! 

OFFICIAL WEBSITE: 
https://www.higherhillstudios.com/