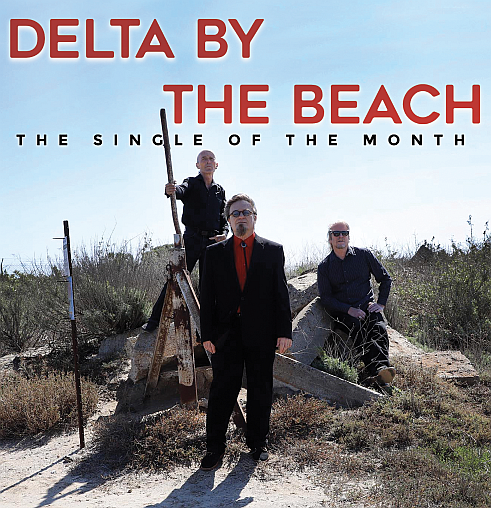 DELTA BY THE BEACH
The Single of the Month
By Mike O'Cull www.mikeocull.com 
California blues outfit Delta By The Beach vibe like the most lowdown jukebox in town on their new full-length release The Single of the Month.
The album title refers to the one-song-a-week-for-a-year recording project that brought Delta By The Beach into existence and also to the choice to craft tight, short songs that might be found on a vintage record machine. Band members Doc Ventura (bass, lead vocals), Milo Sledge (guitar), and Eddie Layman (drums) are a small-but-motivated crew that makes rough-edged blues music for modern ears. They're the kind of band that really will help keep the blues alive by not letting it turn into museum music but by keeping it charged up with the energy and humanity of its own time. 
What they're doing must be working because the group is closing in on a cool million Spotify streams and rocks hundreds of live gigs every year. Their authentic Mississippi juke joint style has connected with fans all over the world and demonstrates the eternal relevance of this music. 
The songs contained on The Single of the Month are a lively assortment of small-band blues designed for hip-shaking and heartbreaking. The opening cut "Bad Deed" is a razor-sharp Chicago blues with a Muddy Waters feel and an expressive lead vocal from Doc Ventura. Right away, it's clear that this is lights-out hard music for hard times that tells real, human stories. The shuffle groove, alone, will hit you dead-on at the end of a tough day and pull your pain to the surface, as real blues has always done. 
The mid-speed "Give Me Back My Tears" expands on the Jimmy Reed style with tough emotions and a big riff. Still, the sweetness of the beat comes through and will soon have you swaying with its rough-hewn charm. Ventura and Sledge are a solid pair up front, capable of weaving rhythmic spells that mesmerize and fascinate. This isn't shredding, contemporary blues but the stripped-down, dangerous sound that turned us all on in the first place and it's glorious. 
"Tired Of My Luck" is way cool garage/blues/funk done right and sounds like a night spent out back drinking and jamming to old records on a single speaker. We can all relate to the title sentiment in one way or another and Ventura delivers his vocals in a way that will make you understand. Sledge's guitar tone here is sharp and dirty in the best way possible and fits the tune's atmosphere perfectly. 
All of The Single of the Month will make blues fans happy. It's a wonderfully energetic record that plays to the core strengths of blues music and refuses to pose or pretend. Delta By The Beach needs to be on your screen right now so you can dig into gems like "1000 Tears" and "You Made A Mistake" without delay. You want the blues? You got 'em! Highly recommended. 
OFFICIAL WEBSITE: