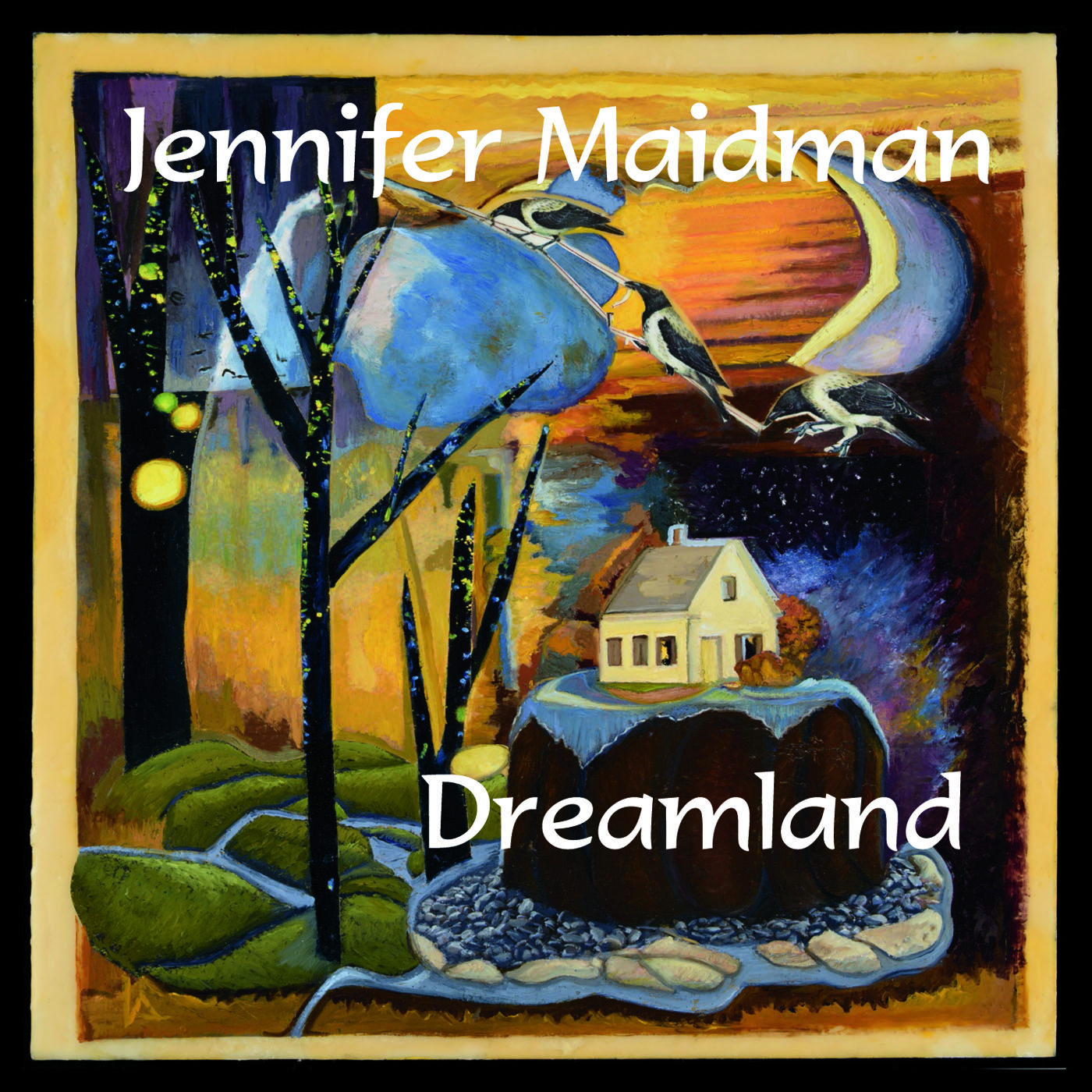 JENNIFER MAIDMAN 
Dreamland 
Review by Mike O'Cull, independent music journalist. www.mikeocull.com 
Photos by Dakota Lane 
British multi-instrumentalist, singer, and songwriter Jennifer Maidman has been making music at the highest levels since the mid 1970s. She has worked with a litany of heavy hitters that includes Joan Armatrading, Boy George, Van Morrison, Bonnie Raitt, Linda McCartney, Annie Whitehead, Mark Knopfler, The Proclaimers, and George Clinton. She earned gold and platinum records back when they meant something. If that wasn't enough, she also has a compelling personal story of courage and transformation to tell. It's the story of being a female born in a male form named Ian and how that early life put her on the journey to who she is today.  
Dreamland is her long-awaited solo album, recorded at the Dreamland studio in Woodstock, New York and is also the title of a documentary film by Dakota Lane about Maidman and the making of the album. The entire film was shot on an iPhone and has been selected to be shown at the New York City Independent Film Festival in May, 2018. Taken together, the album and film give an up-close look into one of those amazing human stories that couldn't have come from fiction. Maidman is fully herself, in the way most of us aspire to be, and serves as an example of how much power can be generated when mind, body, and soul finally align.  
Dreamland the album is the strong and personal statement of a realized musician. Maidman is a skilled vocalist and songwriter and plays bass, guitar, drums, keys, Chapman Stick, and more. All of her facets get plenty of exercise on the set and she delivers tracks that range from deep funk ("Conspiracy of Dreamers," "Red Heart") to mid-tempo lyricism ("The Letting Go") to piano jazz balladry ("Land of Dreams"). She also gets ample support on these sessions from guests like guitarist/composer/looper David Torn (David Bowie, Jim Carrol, Laurie Anderson, David Sylvian), drummer Jerry Marotta (Peter Gabriel, Hall & Oates, John Mayer, Paul McCartney), and trombonist Annie Whitehead (Elvis Costello, The Spice Girls, Joe Jackson, Charlie Watts). Maidman and Whitehead have been life partners and musical collaborators since the late 1980s and their closeness shows. Maidman's vocals and writing are the common threads through all of this and make Dreamland a personal expression, not merely a collection of songs.  
Dreamland the film is an intimate, unscripted look into the recording of the album and into Maidman's life and history. Director Dakota Lane is an award-winning Young Adult author and journalist who made the film under natural light on a single iPhone. Because of this, Maidman, her associates, and her process are captured as they are. This accentuates the spontaneous humanity so vital to the musical art and shows us the people behind these careers in a personal way. The film gives fans insights into Maidman and her life that enrich the songs on the record.  
Both versions of Dreamland combine to form an amazing portal into the music and life of Jennifer Maidman for new converts and old friends, alike. Maidman's personal authenticity drives her life and work and will probably be the take-away from the film for most people. It's not often that we see someone this comfortable in her own skin. Dig both when you find them. You'll be happy. 
'DREAMLAND' ON SPOTIFY!
JENNIFER MAIDMAN - 'DREAMLAND'