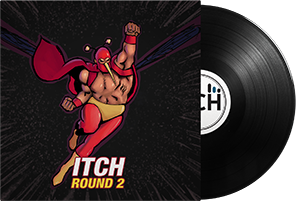 ITCH 
Round 2 
(Latticesphere Records) 
Review by Mike O'Cull, independent music journalist. www.mikeocull.com 
If you like funk/rock with deep grooves, killer songs, and a unique style, let me introduce you to Itch, your new favorite band. Itch is a Serbian band based in Belgrade that has been making its way through the international music scene since 2010 and doing it with the current lineup since 2015. Round 2 is, appropriately enough, the second Itch release to see the light of day and it is a strong statement from a group with the skills needed to break through to a much larger audience. 
The first thing one notices upon first listening to Round 2 is the huge pocket the band creates behind vocalist Nina "Buvica" Budjinski. The bass, guitar, and drum interaction is tight, driving, and motivating, giving the songs the propellant needed to move large crowds of humans. This is a style-mixing outfit, however, and no one involved is scared to blast off from their funk platform into full-bore rock energy or even add elements of electronic production to the mix. This gives this set just enough unpredictability to be an exciting listen from start to finish. The recorded sounds are crisp and punchy, too, especially the bass tone, which helps make the whole show happen. Highlights include "Prison Disco," "Mangata," and "Captain Love." 
Itch has played some bigger festivals in Europe, gotten airplay and TV time, and is now preparing for an American tour to support Round 2. This can only lead to more success, as Itch is one of those bands that makes perfect sense the first time people hear the tunes. Strong funk like this is universal and the other elements the group stacks around this core just make it more appealing. You can say you heard it here first: Itch is the Truth.
LISTEN TO ITCH ON SPOTIFY: https://open.spotify.com/album/0xD68Eln2o53aj2Pae6iiY?si=HLuSMQi7RyG3XHWgVgbCEg