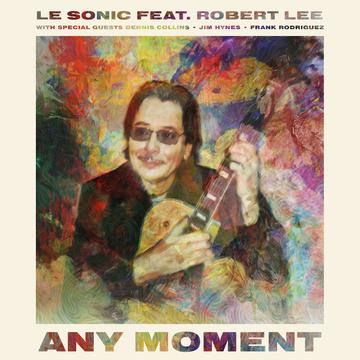 LE SONIC FEAT. ROBERT LEE 
"Any Moment" 
By Mike O'Cull www.mikeocull.com 
New production team Le Sonic gets down with a slick, smooth jazz sound on their debut single "Any Moment." Released September 10th, 2021, the track is a vibe-filled session by members Mike Rogers and Gary Lefkowith, who are both outstanding producers, artists, and songwriters, and features guitarist Robert Lee, a.k.a. Bobby Balderrama of ? and the Mysterians fame. Other guests on the cut include Dennis Collins, Jim Hynes, and Frank Rodriguez. 
Mike Rogers engineered and helped produce Deee-Lite's Mega Hit "Groove is in the Heart" back in the day and went on to work with major artists Sinead O'Connor, Graham Nash, Erasure, They Might be Giants, The Fat Boys, Arthur Baker, and Flood. Gary Lefkowith is in the radio promotion game in addition to being a musician and has worked records by Elvis Presley, Mick Jagger, Meghan Trainer, John Legend, P!NK, and Fleetwood Mac. He's also been a quarter-finalist in the American Song Festival. The two men together add up to a creative team with deep artistic pockets and an intuitive sense of what makes a hit record. 
"Any Moment" is a chilled-out, sophisticated cut with a light and funky groove. It feels like the kind of song you'd play after an amazing night out to carry you through the overnight hours. Robert Lee delivers a tasty, beautifully phrased guitar performance that stands tall but never overwhelms Le Sonic's soulful arrangement. His tone is sweet and full and his licks tell his story. "Any Moment" is an amazing cut by a studio team we need to hear from again. Spin it and enjoy every second.
OFFICIAL WEBSITE: