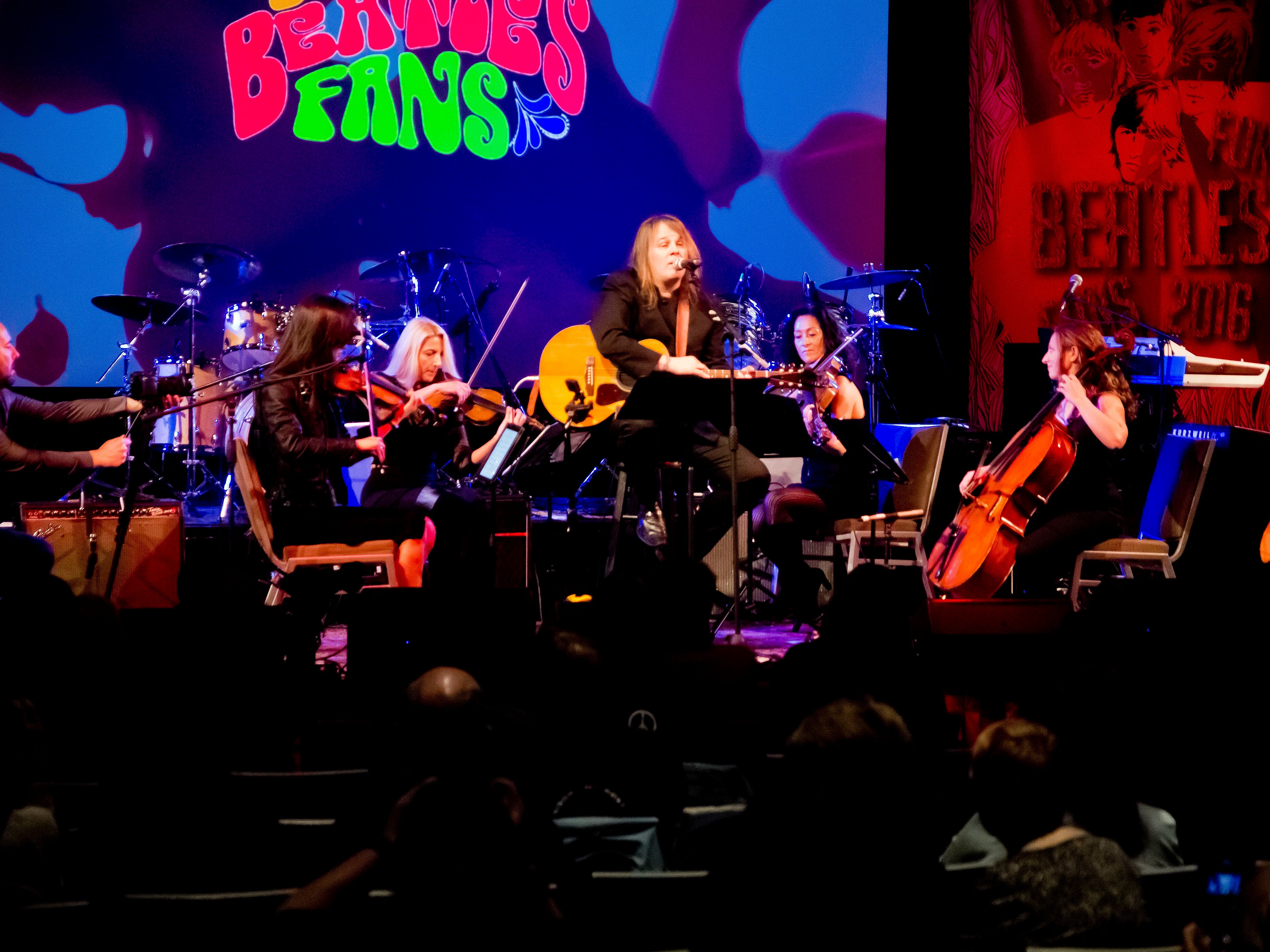 JEFF LAKE & CELLOPHANE FLOWERS 
Penny Lane 
(Luby Tunes LLC) 
By Mike O'Cull www.mikeocull.com 
Jeff Lake & Cellophane Flowers do a fine and entertaining job of taking the best of The Beatles' repertoire into the classical music world on their new release Penny Lane. The record came out in January of 2021 and is readily available on all major music streaming platforms and on CD. The group replaces the electric guitar-based sound at the core of The Beatles' sound with a signature blend of violin, cello, and acoustic guitar topped with Lake's smooth, eloquent vocals. This free-handed approach yields an amazing reinvention of these overwhelmingly familiar songs that gives them new life, new legs, and plenty of room to breathe. 
The group was formed by Lake, an excellent singer-songwriter in his own right, in New York City in 2016 and quickly became popular with Big Apple Beatle fans after gigs at important venues including The Bitter End and The Slipper Room. Listening to Penny Lane, it's easy to understand the instant appeal Lake and company have. Their interpretations of these timeless songs gives them another level of depth and meaning. From the first notes of the titular cut "Penny Lane" that opens the set, Lake steers the songs into new territory in a sublime, non-pretentious way. "Penny Lane" gets a slimmed-down Baroque-flavored retelling that works brilliantly and emphasizes the soaring vocal melody. "Here Comes The Sun" brings the acoustic guitar into the party and will put a gentle smile on anyone's face. Lake's High, clear tenor voice fits this material perfectly and his performances are warm and engaging. 
Both "Michelle" and "Yesterday" benefit from having their already classically-informed DNA brought to the front by Lake's reimagining of them. He gives listeners a chance to hear these songs in a different way that comes off as vital and fresh. Other wonderful moments captured here include "Honey Pie," "Sugar Plum Lucy," and "A Day In The Life." Jeff Lake & Cellophane Flowers are superb interpreters of The Beatles' landmark songbook and display their love for it proudly. Fab Four fans the world over should hear this record at once.
LISTEN ON SPOTIFY:
https://open.spotify.com/album/2E1QvMyg5sKrbfhjbbk1rg?si=_d_NljCLQHuyjfxZgNVKFA
 
OFFICIAL WEBSITE:
https://cellophaneflowersmusic.com/
FACEBOOK:
https://www.facebook.com/cellophaneflowersmusic/
 
INSTAGRAM:
https://www.instagram.com/cellophaneflowersband/