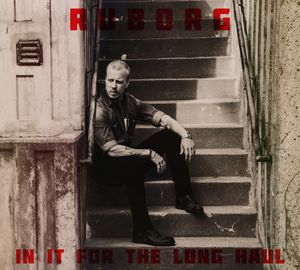 RUBORG  
In It For The Long Haul 
Review by Mike O'Cull, independent music journalist. www.mikeocull.com  
Ruborg is the new solo project from singer/songwriter Johan Ruborg, a gritty, lyrical performer who is deeply influenced by timeless American artists like Bruce Springsteen, Bob Dylan, and Warren Zevon. Ruborg's latest album, In It For The Long Haul, is a ten-song set that displays Johan's mastery of straight-up 20th Century roots rock and the bare-knuckle poetry that drives it. The record comes out September 20th, 2019 and will deliver an outstanding listening experience to fans of songs that express the honest moments of human life in a powerful, plain-spoken way.  
Ruborg has been a solo artist since 2012 and it's clearly the proper path for him. His songs are observant, intelligent, and tell their tales in ways any listener can understand. Produced by Wincent Ek, In It For The Long Haul has an unadorned, street-level vibe that lets the characters in Ruborg's songs speak freely and not be drowned out by a wall of sound. "Hold Up" is a solid mid-tempo track about feeling stuck and unsure about what to do next in life. It's an attention-getting song that deals with feelings and situations everyone can relate to and is also an excellent showcase for Johan's strong baritone vocals. It's a cool rock songwriter moment reminiscent of Springsteen's Human Touch/Lucky Town period of the mid-1990s.  
"Load The Dice" is a smoldering song about coping with a relationship that's become "a lost cause" and is heading downhill. Ruborg does a fine job communicating the helpless feeling of watching something beautiful die slowly and having no way to save it. "Traces " is an understated acoustic guitar track that picks up the narrative after the love has died and all that remains are bits and pieces of the person who's gone. Like all Rubog's songs, it's a direct and unflinching window into a personal moment shared without irony or pretense. He has a talent for writing songs that pull listeners into their own particular situations and use that pull to convey universal emotions. Other great moments here include "Road To Exile" and "Damaged Goods." 
Ruborg has a world-class album on his hands with In It For The Long Haul and the record should do much to build awareness of his talents. His songs feel genuine and personal and stake out a lot of relevant human territory too often glossed over by louder, shallower artists. In an age made of plastic, Ruborg puts forth the kind of denim-wearing Truth that sustains long careers. Highly recommended. 
RUBORG ON SPOTIFY:
https://open.spotify.com/artist/4ae5PAKNAn5ktcqqSJtclB?si=BOY5JLcZSeulSJqOWT0POg
OFFICIAL WEBSITE: