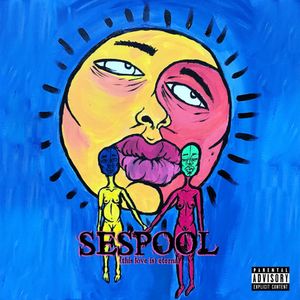 SESPOOL 
(This Love Is) Eternal 
Review by Mike O'Cull, independent music journalist. www.mikeocull.com 
Sespool, a.k.a. Sean E., is an intensely creative musician, multi-instrumentalist, and producer working in San Francisco, California. His latest release is (This Love Is) Eternal, an experimental hip-hop album that finds him wildly crossing genre boundaries, spitting hard-edged, personal lyrics, and painting sonic murals on the minds of all who listen. Influenced by artists like Pink Floyd, Imogen Heap, and Travis Scott, Sespool has forged a style that intuitively blends rap, prog, and pop with his own personal headspace. This makes (This Love Is) Eternal one of the most individual and impressive records any of us are likely to hear in 2019.  
The set kicks off with "Love Was a Drug," an angry track about five years wasted with the wrong person. Sespool immediately goes hard, raging on the mic about what's been lost but quickly shifts gears and displays a softer, more vulnerable emotion. Putting the anger and the pain right next to each other reflects many people's experience in the game of love and Sespool's willingness to bleed out for us displays great personal authenticity. He plainly tells us "I'd still give my life for her if she was here / 'cause this love is eternal and it's my biggest fear."  
"Overcome" is a fairly abstract, unpredictable beat top-lined with lyrics that reflect an addict's desperate energy with lines like "Fuck food, Ima buy drugs / and after that shit Ima fall in love / with myself just to see what it does / to my health and if I overcome." Sespool's production style is off-kilter in a brilliantly stony way and does a lot to keep him in his own artistic lane, as does his ability to deliver both spoken and sung vocals convincingly.  
One of the album's best tracks is "Five Little Words," a future-funk masterpiece with an uptempo push and harmonized flows. The harmonies are an unexpected twist that will quickly pull listeners deeper into the cut and signal those new to Sespool that he's much more than another rapper writing rhymes. All ten tracks on (This Love Is) Eternal are solid but be sure to check out "Pretty Good Friends," "See U Feel U," and the title song "(This Love Is) Eternal."  
Sespool has a moody, emotive gem on his hands with (This Love Is) Eternal and has created his own sound that speaks to the lonely and traumatized masses that live among us. He's one of the West Coast's most distinctive emerging artists and his innovative approach to this thing of ours could lead him on to a national breakthrough. Get this record in your ears and keep it there. 
LISTEN ON SPOTIFY:
https://open.spotify.com/album/7aIH140fB5LbMYysdm5aV4?si=c8MotCCKRxeGfVUC6WoOfA
OFFICIAL WEBSITE:
http://www.seanecomebacktolife.com