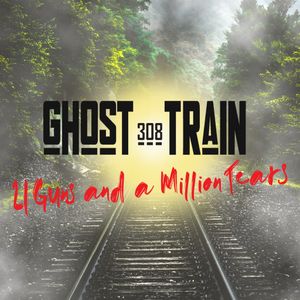 308 GHOST TRAIN 
"21 Guns And A Million Tears" 
Single review by Mike O'Cull, independent music journalist. www.mikeocull.com 
308 Ghost Train is a compelling new rock and roll project by lead singer Anthony "Train" Caruso with a tight, straight-up sound and a message to deliver. The band name refers to the Gospel of John 3:8 ("The wind blows wherever it will, and you hear the sound it makes, but do not know where it comes from and where it is going. So it is with everyone who is born of the Spirit."), the Holy Ghost, and Caruso's nickname with the intent of showing that God is moving him forward with this music in order to inspire others. Caruso's message is an inclusive one that promotes unity, positivity, inspiration, spirituality, and patriotism. 
The latest release from 308 Ghost Train is the single "21 Guns And A Million Tears," a driving rocker that hit the streets May 24, 2019 and is taken from the upcoming EP Born In The Wild, which will drop on June 18th. The song is dedicated to all of America's vets and first responders, especially those facing difficult situations, and strives to give them the hope needed to get back to living full and meaningful lives. It begins with a somber bit of "Taps" played on bagpipes but quickly kicks into an upbeat rock groove with a classic feel. Caruso takes on the voice of a service member who has paid the ultimate price willingly, saying "Drop to your knees but don't cry for me./A folded flag was meant to be" and conveys real emotion with his performance. 
The track has an anthemic feel to it and is anchored on great-sounding guitars and a warm analog synth and recalls the best of non-hair-band 80s rock. The chorus packs a strong hook and will touch the soul of anyone who shares Caruso's love of his country and his respect for these people. 308 Ghost Train is a wonderful throwback to the days when music was more than a commercial and fans connected to their artists on a deeper level. If your heart needs a recharge, turn this one up loud.
LISTEN ON SPOTIFY: https://open.spotify.com/album/06dfGFjO42JO6JQRl0ohBi
OFFICIAL WEBSITE: https://www.308ghosttrain.com/