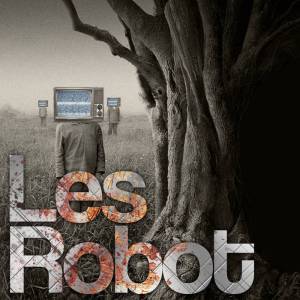 LES ROBOT 
The Semi-Hollow 
Review by Mike O'Cull, independent music journalist. www.mikeocull.com 
Les Robot is a lot to take in. Sure, he's an award-winning rock guitarist (2006 North American Rock Guitar Competition winner), but is about as far from the typical rock/shred guitar player as a man can get. His latest release, The Semi-Hollow, is clearly rooted in post-Van Halen technical playing, but the all-instrumental effort is awash with a creative vision that's brash, fearless, and just plain weird in the best way possible. The Canadian guitarist deftly mixes rock, country, soundtracks, electronics, and Abstract Impressionism into a compelling sound that no one else could make.  
The Semi-Hollow is Mr. Robot's third record overall, but his first to be completely without vocals. Still, he is still very much a songwriter and composer and that sets him apart from the "riff loud and jam" contingent. The tracks here are almost audio paintings that continually alter tone, mood, style, harmony, and dissonance in a way that makes for a mesmerizing listening experience upon first contact. Cuts like "Headache Machine" are difficult to describe. Robot plays ideas that range from common to exotic in the same phrase and fearlessly indulges in shifts in voice and scale that would crumble in lesser hands. He displays influences that run from old school heroes like The Ventures to modern experimental cinema and, somehow, it all comes out making perfect sense.  
"Oz"  begins with lovely classically-inspired acoustic cascades but shifts into a driving rock groove punctuated with orchestral stabs. The song has a delicious tension to it and could work very well in a high-minded sci fi or horror film. About half way through, some country influence is added to the melodic mix, which is something Robot does in a more evolved way than most who try. Usually country-informed shred mostly amounts to playing fiddle and steel licks with distortion, but our man Robot seamlessly inject those sounds into his compositions without turning the whole thing into a heavy metal hoedown. Particularly enjoyable is his use of minor second "rub" notes, which are a big part of contemporary country guitar, as a melodic tension-and-release device.  
"Bumble B Boogie" does, indeed, boogie, but not in any way you could imagine. The track is, however, an epic display of just about every kind of guitar skill possible, and contains elements of classical, country, Hendrix, and high-velocity shred. The title track shows Les Robot at his most abstract, throwing color onto the floor like Jackson Pollock and Steve Vai melded into one creative persona.  
It's refreshing to discover a player as able as Les Robot who is so willing to eschew the usual trappings of rock guitar in favor of a much more daring, experimental, and artistic approach. He possesses the high-wire creative guts of a Jeff Beck or a Frank Zappa and the equivalent skill set to turn it all into something individual and listenable. Anyone who cares at all about the evolution of rock guitar needs to have Les Robot on the ol' radar screen. You won't be sorry.