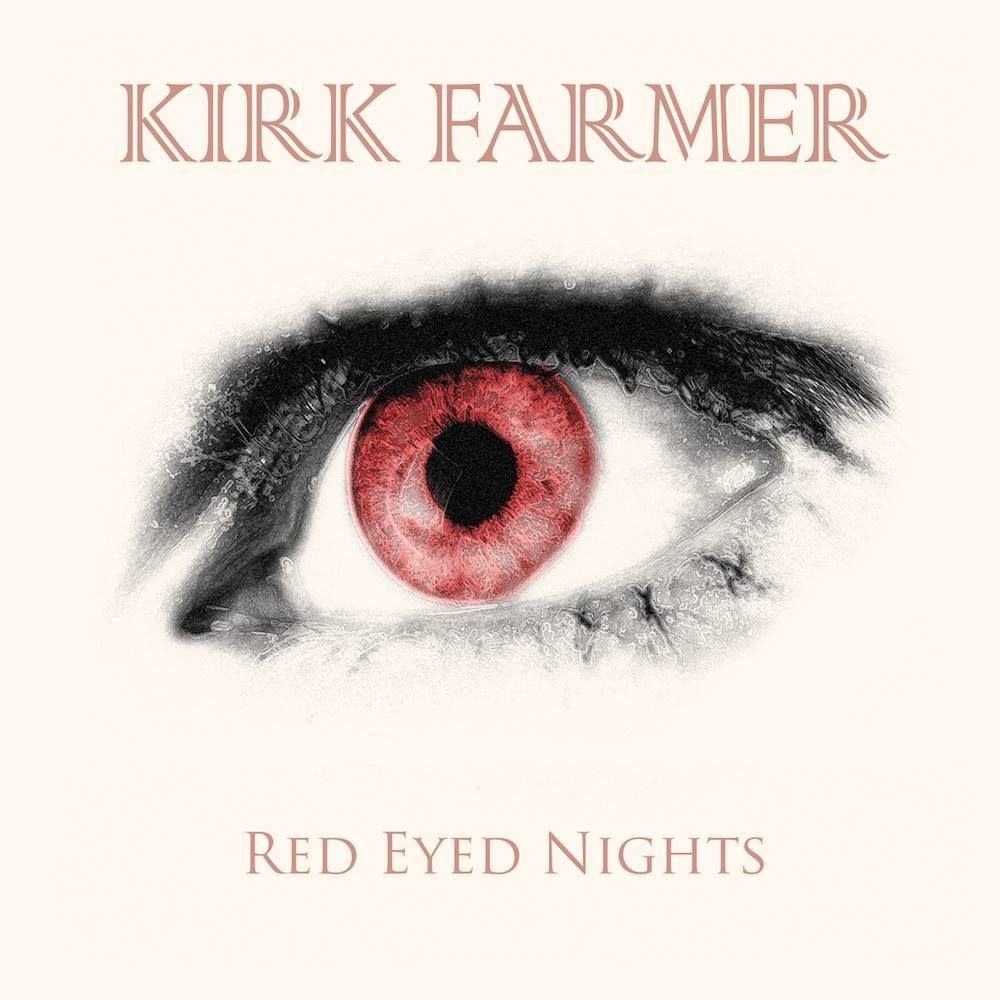 KIRK FARMER 
Red Eyed Nights 
EP review by Mike O'Cull, independent music journalist. www.mikeocull.com 
Based in Raleigh, North Carolina, Kirk Farmer is a singer, songwriter, and guitar player of no small talent who has been performing across the USA for thirty years. His most recent release, Red Eyed Nights, is a four-song EP that displays Farmer's all-area chops well. His sound has roots in the Dead scene but gets harder than they did, invoking Led Zeppelin and Pink Floyd heaviness and atmospherics. He deftly blends rock, folk, blues, and even country sounds, bending them into new shapes that fit his unique vision. 
Honestly, the worst thing about Red Eyed Nights is that it only contains four tracks. Farmer has a unique way of delivering the goods that makes more sense the more you listen to it. Four songs in, you really want four more. The songs are heavy, delicate, and ambient all at once and pull listeners into a particular headspace that they occupy with authority. The title track, "Red Eyed Nights," is a strong mid-tempo chugger that features Farmer's musical partner Tim "Caesar" O'Sullivan dropping some cool Zeppelin-esque lead guitar playing. "The Bitter Unknown" has an epic feel that contrasts darkness and light, has a powerful chorus, and lets O'Sullivan, a London transplant with a strong British rock background. bring his Pink Floyd/David Gilmour influences to the fore. He is an excellent guitarist and has a sense of phrasing in open space that's dramatic and uncommon. His rhythm playing is quite good and he employs it with a producer's touch, using texture to build emotion. The rest of the guitar, bass, drums, and vocals were all Farmer on all four tracks.
Kirk Farmer is a compelling independent artist with an identifiable style and the guts to fully use it. He strikes a balance between skill and soul that many chase but few ever find. This EP is a fine introduction to Farmer's world and will make you want to drive farther into it to see what else might be hanging around. This is strong stuff that anyone who cares about rock music will want to support. Buy this record!
Listen on Soundcloud: https://soundcloud.com/kirk-farmer/sets/red-eyed-nights
Official Website: https://kirkfarmer.com
Facebook: https://www.facebook.com/KirkFarmerMusic
Instagram: https://www.instagram.com/kirkfarmermusic/