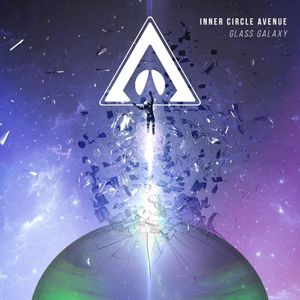 INNER CIRCLE AVENUE  
Glass Galaxy  
By Mike O'Cull www.mikeocull.com  
Inner Circle Avenue is an alternative/pop/rock group from Michigan with a crunchy, melodic sound that's proudly displayed all across the band's recent album Glass Galaxy. Composed of three siblings who are each classically-trained multi-instrumentalists, the band creates smooth-yet-punchy radio rock full of big vocals and indelible hooks. ICA has already received significant airplay in the USA and one blast through Glass Galaxy makes it easy to understand why. Guitarist/vocalist Logan Alexander, bassist/vocalist Eric Alexander, and drummer/vocalist Allison Alexander are an outstanding unit on all levels and show the kind of promise upon which long careers are built.  
"Until Now" opens the record with a driving rock groove and a huge chorus hook. This is the type of song that quickly catches fire with fans of outstanding contemporary pop/rock and is a fine introduction to the band's world. One listen and you'll be singing along. It's all power and precision, right down to the internal keyboard figure that's an instant earworm. "Ember Eyes" is a brooding rocker that raises the energy even higher and features a cool, angular guitar figure that's hard to forget.  
"The New Trend" is timeless guitar rock with a bit of Green Day to it, a sound that ICA wears quite well. The title track, "Glass Galaxy," is quirky, cool, and never lets off the gas pedal. The synth work is especially tasty and helps make this one fly high. All 12 songs on the record are on target and deserve some of your listening time. Be sure not to miss deep cuts like "Unopened Letters," "Counting Stones," and "Paramour." Inner Circle Avenue has crafted a winner with Glass Galaxy and the smart money will want to bet on hearing these tracks on radios around the planet sooner rather than later. 
LISTEN ON SPOTIFY:
https://open.spotify.com/album/7fyFo1pTakIIV99qqFFBVF?si=fIYOsd6wSECtqKYtETz4LQ
FACEBOOK: