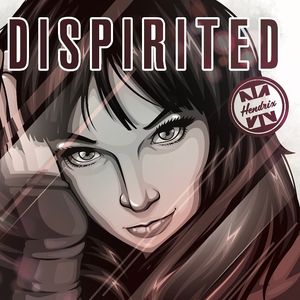 HENDRIX 
"Dispirited" - Episode 3 
Single and video review by Mike O'Cull, independent music journalist. www.mikeocull.com  
California-based songwriter, guitarist, songwriter, and producer Ian Hendrix, or simply Hendrix, checks back in with his tribe with a new single and video called "Dispirited," which is Episode Three of his ongoing and evolving music video series. It will be released on June 25th, 2019. Hendrix is that rare modern artist with wide-screen ideas and news of a new clip from him is always a cause for celebration. His songs are the kind of intelligent, well-executed pop the world needs and use both electronic and traditional sounds to make their magic happen.  
Written by Hendrix and co-produced by Hendrix and Robert Eibach, "Dispirited" is a somber, mid-tempo track that has a New Wave/Synthwave/Sad Girl/Sci-Fi vibe, a description that will make much more sense once you hear it. Hendrix has a style of his own and his music often defies easy dissection. He deftly blends swirling synths with a delicious bassline, a combination that will instantly transport you to his universe. It's a great place to be, as Hendrix has a way with melody and atmosphere that will immediately hook anyone into a moody headspace informed by New Order and Neil Young. Vocalist Katie Shorey appears here again and does another excellent job with Hendrix's material. He and Shorey are a strong team and her smooth, emotive voice and phrasing up the emotional content of "Dispirited" quite a bit.  
The anime-styled video was made by Juan Guillermo Cano of What The Hell Studios and is a beautifully-animated piece of art involving a sad astronaut, a desolate planet, and an alien abduction experience. It adds a layer of brain food to the song, which sounds at first like the story of love gone wrong. The visuals take you further into Hendrix's mind and concept and will make you consider each bar of the song more carefully. Overall, "Dispirited" is another big step forward for Hendrix and his entrancing music. He's making some of the smartest and most accessible synthwave of 2019 and it's high time more people know about him. 
WATCH THE VIDEO:
OFFICIAL WEBSITE: https://hendrixmusic.net/