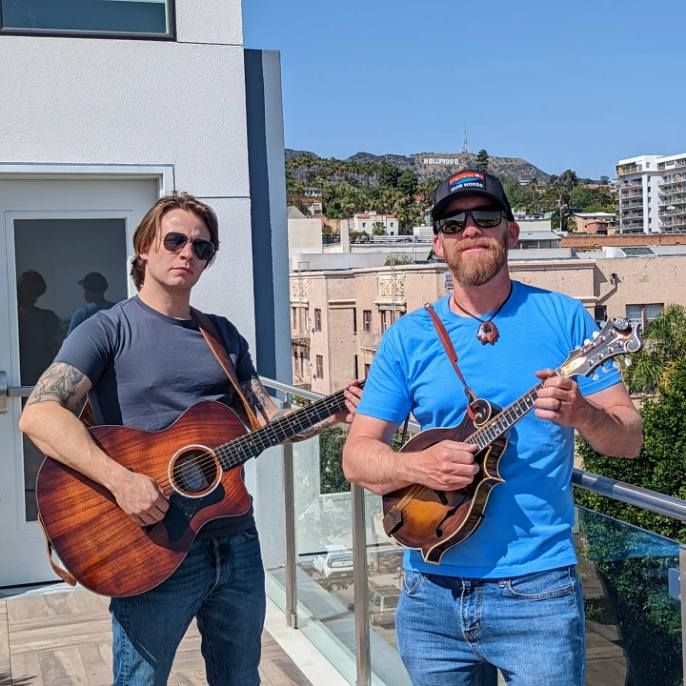 By Mike O'Cull www.mikeocull.com 
The Eddie Lightner and Duke Paul acoustic duo deliver a seriously entertaining musical experience every time they step up to play. Lightner (mandolin, vocals) and Paul (acoustic guitar, vocals) have developed their own signature style that blends bluegrass, new grass, and just-for-you-grass with a little rock and roll kick and the chops to field any request that comes their way. 
It's this bold attitude that makes them seem right at home on any stage in the world. These guys are an all-pro pair who know what it takes to keep both crowds and venues listening and dancing. They're also fine songwriters and have a new single, "Notes of Life," currently in production. 
Lightner and Paul first met in Baltimore, Maryland, introduced to each other by dobro master Matthew Zuckerman, who still frequently sits in on their gigs. Their shared chemistry quickly grew into a performing duo with a strong and continually-growing reputation. They're currently based in California and have appeared at cool Golden State venues like Pedals and Pints Brewing Company in Thousand Oaks and Left Coast Brewing Company in San Clemente. The San Clemente show was a benefit that raised funds to support youth surfing and the SC Board Riders Club, an outstanding cause that does much to help their local scene. A tour of California is also in the works for later this year. 
Eddie and Duke are clearly true believers who honestly love what they're doing. They have that rare ability to elevate the vibrations of any audience, fill them with joy, and leave them wanting more. Their mix of traditional sounds and outside influences stands tall in all ways and has been favorably compared to the legendary duo work of Jerry Garcia and David Grisman. Their music makes friends wherever they play it and would fit in at any club, festival, or event that has the wisdom to book them. 
If the thought of an old-school/new-style acoustic show built on heart and energy lights you up inside, The Eddie Lightner and Duke Paul acoustic duo is about to become your new favorite band. Highly recommended.
FACEBOOK: https://www.facebook.com/edwin.lightner