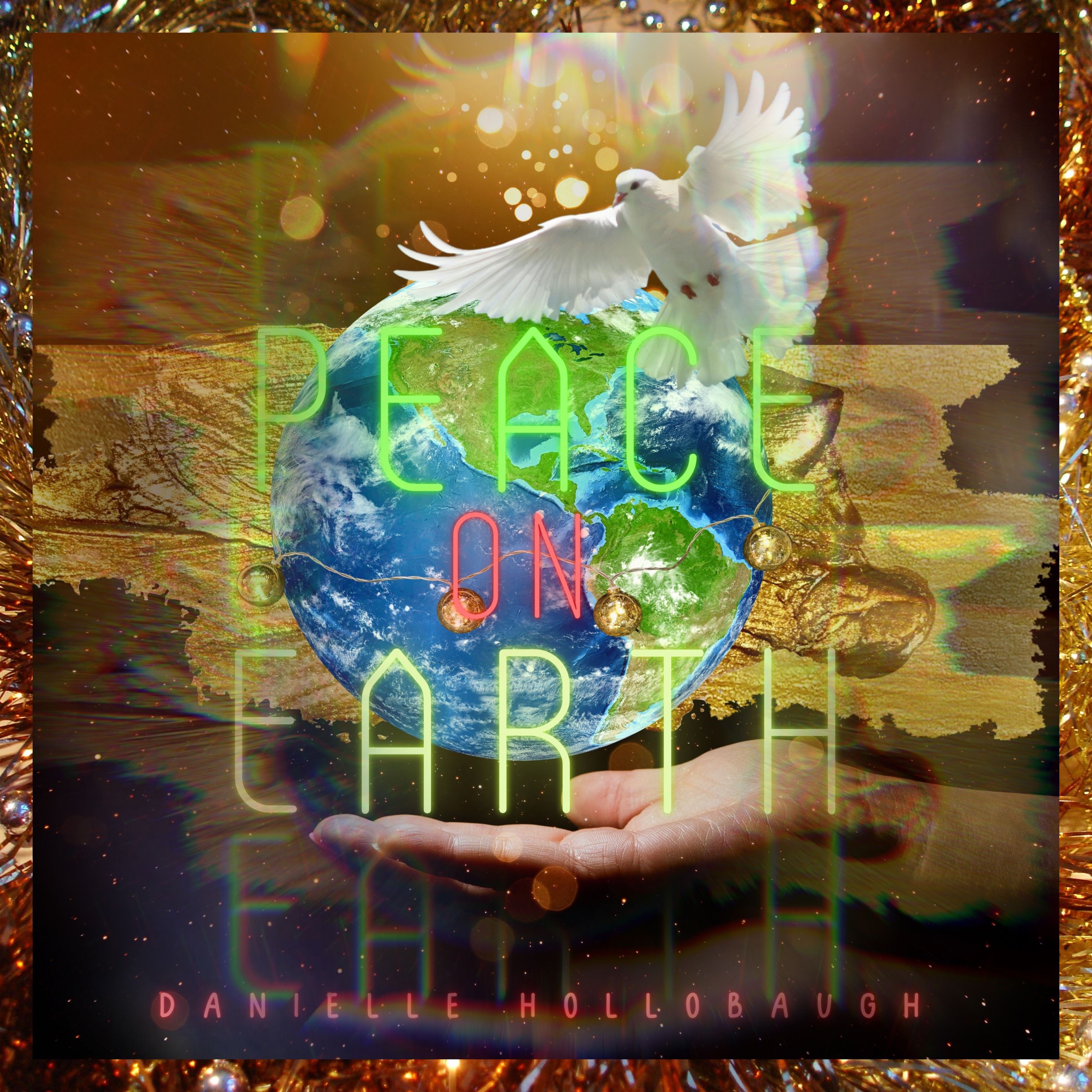 DANIELLE HOLLOBAUGH 
Peace On Earth 
EP review by Mike O'Cull www.mikeocull.com 
Big voiced pop singer Danielle Hollobaugh brings something fresh and new to the Christmas season this year with her brand new holiday EP Peace On Earth. Released on November 27th, 2020, the four-song set is a response to the endless stream of challenges the world has experienced this year and is intended to deliver a feeling of peace to all those left frazzled by the chaos and division that seems to be everywhere. Creating new Christmas music is one of the most difficult creative tasks out there because the traditional songs and carols are so deeply ingrained in listeners' minds. Hollobaugh rises to the season, however, and brings us all some new sounds and sentiments that could very well become holiday standards for the next generation. 
The EP kicks off the celebration with its title track "Peace On Earth." The song is an uplifting electronic pop dancefloor banger that's thoroughly modern and instantly memorable. Hollobaugh's lyrics are unapologetically religious in tone and she delivers them with conviction over a pulsating four-on-the-floor beat and tight synth-heavy production. It's a very meaningful song that will no doubt connect with a lot of people who aren't moved by the old carols anymore. 
Danielle does fine work on her version of "O Holy Night." Under her direction, the venerable hymn gets a subdued but effective treatment that then explodes with dynamic glory. Hollobaugh has a beautifully clear and powerful voice that she uses to its full potential here and dispels any notions that her skills are anything but legit. She also treats us to an upbeat take on "Go Tell It On The Mountain" that balances delicate and expressive verse sections with crisp synth bass choruses. Danielle Hollobaugh shows a huge Christmas vision on this new EP and demonstrates the skills and artistry of someone with big things ahead of her. Be sure to add Peace On Earth to your Christmas listening this year for a truly happy holiday.
LISTEN ON SPOTIFY:
https://open.spotify.com/album/39Dqy7G1UZksTRiVv2se7j?si=yWi6uVNmT-umRm5TO2NkPA
 
FACEBOOK: