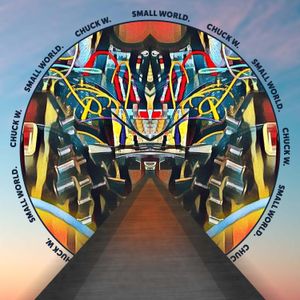 CHUCK W. 
"The First Road to Small World" 
(Chuck W. Records) 
Single review by Mike O'Cull www.mikeocull.com  
Experimental electronic artist Chuck W. colors way outside the lines on his new single "The First Road to Small World." Working from his kitchen table studio in Amityville, New York, Chuck crafts expressive synth-based soundscapes that communicate his internal fears and anxieties about life in an abstract yet profound way. This track, taken from his upcoming album Small World, is a brilliant piece of outsider art that increases in importance with each successive listening session. It's comprised of tortured synths and beats that, although initially unsettling, pull us into Chuck's world by showing, not telling. No words are needed to understand that this track is the sound of one man thinking in the midst of a shrinking world.  
Chuck uses the term "small world" to describe the agoraphobia that follows confinement, not in the traditional sense. His is a mind focused inward and living in its own space and time. "The First Road to Small World" is two-and-a-half minutes of raw human angst made digital. Chuck W. is bold, open, and unafraid as an artist, recording his own condition, no matter what it may sound like. His music is vital and real and worth every second it takes you to find your way inside of it. Elevate and investigate. 
LISTEN ON SPOTIFY:
https://open.spotify.com/album/6j3p5BSzBT5iA9W6OUaCMf?highlight=spotify:track:7r4XXVsvCqOGyVAmLVdt7D
TWITTER: