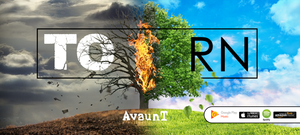 AVAUNT 
"T.O.R.N." 
Single review by Mike O'Cull www.mikeocull.com  
Avaunt is a rapidly-emerging musical force from Enfield, Connecticut with a powerful style that walks the line between hard rock and heavy metal. "T.O.R.N." is the band's second single since bursting onto the US rock scene in June of 2019 and the track hit the streets September 6th. Avaunt's sound is inspired by acts like Deftones, Killswitch Engage, and Breaking Benjamin but displays a high level of confident originality that keeps the group firmly in its own zone.  
"T.O.R.N." is an outstanding song built on stuttering, odd-time heaviness, huge drop-tuned guitars, and clean, up-front vocals delivering the interior monologue of a man at war with himself. It rocks hard but is also accessible and relatable enough to potentially break out worldwide. A lot of listeners will recognize themselves in the tormented lyrics "There's no side that's been winning, I'm slowly giving in."  
The band grinds and grooves beneath the confessional vocals with a committed strength that audiences will no doubt find cathartic live but this studio version is absolutely strong enough to release the rage and tension of modern life. "T.O.R.N." has already been streamed almost 70,000 times on Spotify, alone, in a very short time, so fans are certainly latching on.  
Avaunt has a winner on its hands with "T.O.R.N." and it's the kind of track that could get big quickly. The band is clearly motivated and moving fast in everything it does and is tracking a new EP called Behind The Mask for a release in early 2020. Fans of up-and-coming rock groups looking to get a jump on the masses are advised to playlist this one today and join the rest of us waiting for the next record. 
WATCH THE LYRIC VIDEO:
FACEBOOK:
https://www.facebook.com/avauntband
INSTAGRAM:
https://www.instagram.com/avaunt_band
TWITTER: